1963 Roster
John Orsino c
.272, 19, 56
Jim Gentile 1b
.248, 24, 72
Jerry Adair 2b
.228, 6, 30
Brooks Robinson 3b
.251, 11, 67
Luis Aparicio ss
.250, 5, 45
Russ Snyder of
.256. 7, 36
Jackie Brandt of
.248, 15, 61
Boog Powell of
.265, 25, 82
Al Smith of
.272, 10, 39
Bob Saverine ut
.234, 1, 12
Bob Johnson if
.295, 8, 32
Joe Gaines of
.286, 6, 20
Dick Brown c
.246, 2, 13
Charlie Lau c
.188, 0, 6
Fred Valentine of
.269, 0, 1
Sam Bowens of
.333, 4, 9
Hobie Landrith c
.000, 0, 0
Steve Barber lhp
20-13, 2.75
Milt Pappas rhp
16-9, 3.03
Robin Roberts rhp
14-13, 3.33
Dave McNally lhp
7-8, 4.57 (1 SV)
Mike McCormick lhp
6-8, 4.30
Dick Hall rhp
5-5, 2.97 (12 SV)
Stu Miller rhp
5-8, 2.25 (27 SV)
Wes Stock rhp
7-0,, 3.94 (1 SV)
Chuck Estrada rhp
3-2, 4.65
Dean Stone lhp
1-2, 5.21 (1 SV)
Ike Delock rhp
1-3, 5.40
Buster Narum rhp
0-0, 3.00
Herm Starrette rhp
0-1, 3.46
George Brunet lhp
0-1, 5.40 (1 SV)
Pete Burnside lhp
0-1, 5.14
Wally Bunker rhp
0-1, 13.50

"[General manager Lee] MacPhail's choice as the next manager, Billy Hitchcock, presided over a slide to seventh place [in 1962]; worse, he lacked the respect of the players. [Milt] Pappas attacked him openly in the press, [Jim] Gentile ignored club rules and taunted him in the clubhouse. MacPhail's contribution was to cut the salaries not only of Pappas and Gentile, but of [Steve] Barber and [Ron] Hansen as well. The result was a fourth-place finish and increased resentment among the players...."

---- Dewey & Acocella
Total Baseball


"Billy Hitchcock, the one-time infielder, managed the Orioles in 1962, when we dropped to seventh place, and 1963, when we moved back up to fourth. Billy was the nicest guy you ever wanted to meet, but we didn't play very well under him. It was discouraging because I had thought the Orioles were on the verge of catching up to the Yankees.

"The major addition the Orioles made in 1963 was getting Luis Aparicio from the White Sox. Luis was just a sensational player offensively and defensively. He was the era's best-fielding shortstop. He had so much range that I could cheat more to the line than I did with [Ron] Hansen. Luis had led the league in stolen bases all 7 years he had been with the White Sox, and he led the league his first year with the Orioles, stealing 40 bases. I don't know if he had a special technique -- he just stole because he took a big lead, got a great jump, and had outstanding speed.

"We also got starter Mike McCormick and reliever Stu Miller in December of 1962 in a deal that sent Jack Fisher to the Giants. McCormick had several good years with the Giants before having arm problems in 1962. Unfortunately, he didn't have much success with us, although he'd revive his career in the late '60s.

"Stu Miller wasn't a flaky relief pitcher but a pretty serious man who liked to be left alone. I liked him. He was a nice man. On the mound he was great. There were a few phenomenons that would come along every now and then, and Stu Miller was one of them. No one was like him. Relief pitchers usually throw hard, but he got you on that unusual change-up -- batters knew it was coming but could do nothing. He could make hitters look funnier than any other pitcher.

"Another good relief pitcher we had was 6'6" Dick Hall. He had come to the Orioles in 1961 and was an excellent reliever for us for several years. In 1963 he had a streak of getting out 28 consecutive batters. In 1964 he would win 9 out of 10 and have an ERA under 2.00. He wasn't a flaky reliever -- in fact, he worked as a CPA in Baltimore. He was a student of the game .... He had perfect control and just pitched away, away, away all the time...."

-- Brooks Robinson
We Played the Game

Luis Sparkles at Short
Luis Aparicio never got the kind of attention in his time that Ozzie Smith [enjoyed], but he was every bit as good a shortstop. Aparicio either holds or shares almost every major career fielding record for American League shortstops, as well as the major league mark for most games by a shortstop (2.599). In 1963, Aparicio topped the circuit with 40 stolen bases.
--The Baseball Chronicle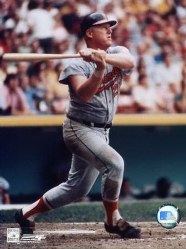 Boog Powell