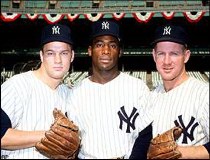 Bouton, Downing and Ford in '63.
1963 Roster
Elston Howard c
.287, 28, 85
Joe Pepitone 1b
.271, 27, 89
Bobby Richardson 2b
.265, 3, 48
Clete Boyer 3b
.251, 12, 54
Tony Kubek ss
.257, 7, 44
Hector Lopez lf
.249, 14, 52
Tom Tresh cf
.269, 25, 71
Roger Maris rf
.269, 23, 53
Johnny Blanchard of
.225, 16, 45
Phil Linz ut
.269, 2, 12
Mickey Mantle of
.314, 15, 35
Harry Bright 13
.236, 7, 23
Yogi Berra c
.293, 8, 28
Jack Reed of
.205, 0, 1
Pedro Gonzalez 2b
.192, 0, 1
Dale Long 1b
.200, 0, 0
Jake Gibbs c
.250, 0, 0
Whitey Ford lhp
24-7, 2.74 (1 SV)
Ralph Terry rhp
17-15, 3.22 (1 SV)
Jim Bouton rhp
21-7, 2.53 (1 SV)
Al Downing lhp
13-5, 2.56
Stan Williams rhp
9-8, 3.21
Bill Stafford rhp
4-8, 6.02 (3 SV)
Hal Reniff rhp
4-3, 2.62 (18 SV)
Steve Hamilton lhp
5-1, 2.60 (5 SV)
Bill Kunkel rhp
3-2, 2.72
Marshall Bridges lhp
2-0, 3.82 (1 SV)
Tom Metcalf rhp
1-0, 2.77
Luis Arroyo lhp
1-1, 13.50
Bud Daley lhp
0-0, 0.00 (1 SV)

The 1963 pennant seemed a shoo-in. General manager Roy Hamey had made one trade over the winter, and it seemed to be the icing on an already overly frosted cake. Hamey traded Moose Skowron, for nine years the Yankee first-baseman, to the L.A. Dodgers for starting pitcher Stan Williams, a strong right-hander, 15-12 in 1961, 14-12 in '62, a hard-working operator with a live fast ball and vast potential. To replace Moose at first, there was Joe Pepitone, the free-wheeling, skinny kid who was excellent defensively and had a quick, powerful bat. Pepitone started quickly and his nine home runs led the team in the spring.

The team figured to be stronger than in '62 because Tony Kubek would be at shortstop for the entire season, and Tom Tresh, in left field, would have both experience and security. The rest of the team was set. In the infield with Pepitone and Kubek was second-baseman Bobby Richardson and third-baseman Clete Boyer, the two best at their positions in the league, and at catcher was all-star Ellie Howard. With Tresh in the outfield were mantle and Maris, the heart of the Yankee attack ....

On the mound in addition to Williams was Whitey Ford, 17-8 in 1962, looking forward to a twenty-game season this year; Ralph Terry, 23-12 last year; and Bill Stafford, 14-9 the last two years but still hoping for a twenty-game season if the batters would get him just a few more runs. Also there was second-year man Jim Bouton, a fearless competitor .... [T]he critics were predicting that if Bouton could break into the starting rotation, he could be the star of the staff for years to come. In the bullpen the Yankees would be strong if their reliefers stayed healthy .... On the bench the Yankees boasted Hector Lopez, the best fourth outfielder in the league .... John Blanchard, catcher-outfielder-first-baseman, home-run-hitting pinch hitter, was also a valuable sub as was infielder Phil Linz, who would have been a starter on almost any other club ....

When the season [started] ... almost everyone performed as expected, and though the Yankees trailed Chicago and Baltimore by a game or two in May, there was little concern. By the end of the month Ellie Howard was being touted for MVP along with Tom Tresh .... The untested Joe Pepitone was hitting well and often .... Pepitone had great range, much more than Bill Skowron, and as a result Bobby Richardson, at the peak of his career at second base, was able to play closer to second, allowing shortstop Tony Kubek to play deeper in the hole at short, and giving third-baseman Clete Boyer the leeway to hug the third-base line .... Clete Boyer was a pleasant surprise at bat, hitting .336, fourth in the league ....

The biggest disappointment was Kubek. He was fielding as well as ever, but his quick bat was gone, and he looked pathetic during a 1-35 streak which sunk his average far below .200 ....

Stan Williams ... wasn't pitching particularly well. One start he would be excellent, the next unacceptable. Neither [Ralph] Houk nor pitching coach John Sain nor anyone else could figure out what was keeping Williams from becoming an outstanding pitcher, and frustrations grew as Williams continued to flounder [sic]. On the bright side, Whitey Ford, though losing a few tough games, was 5-3, and Ralph Terry, pitching as well as the year before, wasn't compiling an impressive record only because he wasn't getting support in 2-1, 3-2, 2-0 and 2-0 losses. His earned run average was low, and he knew that his record soon would come around.

The biggest surprise was Bouton. When Stafford was suffering from a sore arm, Houk inserted Bouton into the rotation, and in his first start on May 13 the cocky kid pitched a two-hit shutout over the Orioles ....

In June there was an epidemic of injuries .... [O]n June 5, the Yankees were in Baltimore playing the Orioles. Brooks Robinson, the O's star third-baseman, lined a Whitey Ford breaking pitch toward the right center-field fence as Mickey Mantle raced after it in pursuit. Mantle was closing fast, but before he could reach the descending ball, his flight was intercepted by the chain-link outfield fence, and at top speed he pancaked into it. His left spoke caught in the wire mesh, and he fell awkwardly. Roger Maris and Bobby Richardson raced to Mantle. He was in tears. "It's broken," he said. "It's broken. I know it's broken." Mickey was right. His left foot was broken, and if Mantle played again before August he would be doing well .... Phil Linz ... tried to steal third and ripped ligaments in his right knee, killing the best opportunity he had to prove himself ....

.... [T]he Yankees proceeded to laugh in the face of adversity, winning ten of eleven games .... Usually a home-run powerhouse, this year the Yankees were winning with pitching and defense. Houk, dissatisfied with Stan Williams and fearful that Stafford's arm had lost some of its strength, called up Al Downing from Richmond on June 10, and with Downing and Jim Bouton joining Whitey Ford and Ralph Terry in the rotation, no team could match starting foursomes with New York.

....Behind these men the Yankees boasted their nonpareil inner defense, and this combination was enough for the Yankees to pass both Chicago and Baltimore and take over first place by mid-June. Almost anything a batter hit on the ground was converted into an out. Joe Pepitone at first base played sixty games in a row without making an error. He made six all season. Bobby Richardson and Tony Kubek were the best DP combination in the majors, and at third was cat-like, daring Clete Boyer with a howitzer for an arm. It was an infield that made defense fashionable, and in 1963 it compiled the best fielding percentage in Yankee history.

-- John Golenbock
Dynasty: The New York Yankees, 1949-1964


"In 1963, [Elston] Howard's MVP season (.287, 28, 85) and [Whitey] Ford's 24 wins produced 104 wins and a 10-game lead, the club's biggest winning margin since 1947."

-- Dewey & Acocella
Total Baseball



Steady Ford Wins 24
Whitey Ford has the top career ERA -- 2.74 -- of any pitcher exclusively since the end of the dead-ball era for ten or more seasons. He was so consistently effective that his highest ERA in the 16 seasons he pitched was 3.24 in 1965. His lowest, a 1.64 mark, came in his final season. In 1963, Ford led the American League with 24 wins and a .774 winning percentage.

Houk Moved Upstairs
Ralph Houk moved up to the Yankees' front office after 1963. Had he remained there, he would have been the only manager to win three flags in his only three years as a helmsman.
-- The Baseball Chronicle

"The Yankees were a real good, solid all-around ballclub. But there wasn't the Yankee power of the past. Our greatest asset was defense, with Clete Boyer at third, Tony Kubek at short, Bobby Richardson at second, and Joe Pepitone at first. There was no way you could drive a ball through that infield. And Ellie Howard, the league's MVP, would pounce on anything in front of the plate. Pitching for a club like that, especially with a sinker, was great.
"I had great respect for Mickey Mantle. He was like a 15-year-old kid with a grin on the side of his mouth, always having fun. Then he put the uniform on to play and he became the most serious guy in the world. If Mickey struck out, nobody would say a word to him until he made some kind of comment himself, because he took it real hard. Then he'd just relax and make a joke or call himself a dummy, and guys could get all over him. Mickey missed almost two months with a foot injury, but he returned with a home run and kept hitting. He was that kind of competitor.
"Whitey Ford led the league with 24 wins. He was always an outstanding pitcher. He had tremendous knowledge of pitching itself and how to pitch the opposition. Plus, he had great control and was a great competitor. He had only average major league stuff except he could pitch. He had 3 curves, which he released at 3 different points. His ball faded away from right-handed batters.
"Bobby Richardson was a very religious guy, but he never let his lifestyle interfere with his play or his friendship with his teammates. He didn't preach to us. Bobby was a very, very steady ballplayer. Unassuming. He just did his job extremely well in the field, where he won Gold Gloves, and at the plate.
"Roger Maris was one of my running buddies and a dear friend .... He was somewhat introverted and wasn't an easy guy to get to know, but once you got to know him, he was a friend for life. He and Mantle were very close. He was a small-town boy who was kind of in awe about what had happened to him in New York. Back in 1961, he was going out two hours early and stayed two hours late trying to accommodate the press. And somebody misquoted him and made him feel like a real ass, and so, instead of telling that one guy not to talk to him anymore, Roger said, "To hell with all the press." And once he said that, people took offense and started getting on him ....
"I had played Triple A against Roger when he was known for his speed more than anything else. We didn't think of him as a power hitter then. I remember he beat us one game with an inside-the-park home run in Indianapolis, and he beat me in a game, 1-0, with a 2-out, 2-strike bunt with a man on third. He could do it all. He was a good fielder, he could throw, he could run. And he had one of the prettiest, short swings. He was having only an average year at the plate in 1963 -- Howard, Pepitone, and Tresh all outhomered him -- but that didn't affect his outfield play.
"Clete Boyer was another of my running buddies. Yogi was a great guy, too .... This was his last year as a Yankee player and he wasn't in the lineup much, leaving catching to Howard and Johnny Blanchard.
"The Yankees were like the Dodgers in that everyone got along. Jim Bouton was the only guy on the team Mickey didn't care for. Bouton kind of got too big for his britches .... He had a tremendous year, winning 21 games. Whatever you want to say about him, he was a tough competitor. That's why he was called 'Bulldog.' I remember when he threw a high fastball and the batter hit it off Bouton's chin and drove him right off the mound.
"I enjoyed being with the Yankees .... I was part of the rotation with Ford, [Ralph] Terry, Bouton, and Al Downing, an amiable, quiet man who was the Yankees' first successful black starting pitcher. We all had winning records. I went 9-8, with a 3.20 ERA, but I don't think I had a very good year. It could have been much better, but there was one stretch in which I lost 4 or 5 consecutive 1-run games. Minnesota, which had an offensive powerhouse, came into New York after scoring 27 runs in 2 games in Boston, and I shut them out through 9 innings but the score was tied 0-0. I could very well have ended up 14-3."
-- Stan Williams
We Played the Game